Instagram Profiles
The author of this Instagram page is Samuel J Ramsey, a 24-year-old young man who is passionate about his love for music, specifically within the indie genre. His purpose is to share the things that are important and valuable to him. Jenkins et al. (2015) explain the value of an author belonging to the community which they are creating for (p. 204). I personally think that he appeals heavily to ethos because he cares about the things that he is sharing, and seems like he has kept up with following some of these bands for a while so he has the knowledge about them as well as the instruments he plays.
He posts a mixture of things about his personal life, including photos with his friends/girlfriend, funny posts, comic books, and political opinion. His other posts involve music in many ways, including videos of him playing the bass guitar/acoustic guitar/singing, photos of his instruments and records, photos with bands/band members, videos from concerts, and posts about albums he likes. At the end of 2018 he posted his top 10 albums of the year in individual posts, each post contained the image of the album cover and text about why he chose the album to be on his list. He uses hashtags throughout all of his posts, which I want to utilize in my social media campaign to connect people interested in the music I'm discussing to the discussion.
Since his posts are both personal and music related his audience ranges from his friends and family to other music lovers who may have found his account through following a hashtag or the location feature after a concert. Jenkins et al. (2015) describe the importance placed on shared experience within social media campaigns and sharing a video of a concert that other fans may have attended, or seen the same artist before is an excellent way to relate (p. 203). On my account there won't be any personal life type posts, because I think in this case it would bog down my purpose.
There is little to no much information given about the author of this Instagram page. There are inferences that could be made based on their taste in music, but overall the only knowledge of the author is the music they favor or do not. They post about a variety of genres being discussed: from Rap/R&B to indie to classic rock. They most heavily appeal to pathos due to audience interest in music. From the viewer perspective, as you scroll through their posts you're more likely to click on the album artwork for albums that you care about and are familiar with.

Aspects of the page I don't enjoy and will try to avoid:
Arola et al. (2014) highlights many modes and there is only the inclusion of linguistic and visual modes within their posts (p. 5-6). . I feel like the most important mode of communication in the context of discussion about music is the aural mode (p. 8), which is completely missing from the conversation.
I find the rating of an album out of 1-10 to create more of an objective opinion rather than a subjective opinion within an album review.
Aspects of the page I enjoy and would like to utilize:
Each album review post is formatted the same way, they begin with favorite tracks and include least favorite tracks and a written review of the album as a whole, each ends with the "overall rating" based on a scale of 1-10. I like the consistency of formatting and would like to emulate a consistent layout within my posts.
I enjoy that within the album reviews specific songs are highlighted as being either outstanding positively or negatively. This gives a more complete view of the album's ins and outs and may highlight songs that the reader should check out/
The profile contains highlighted stories that include favorite artists, favorite albums, polls, and top albums of different years. The use of highlighted stories and polls about comparing songs/albums is something that I want to use to help engage my audience.

Podcast (spread via Twitter account):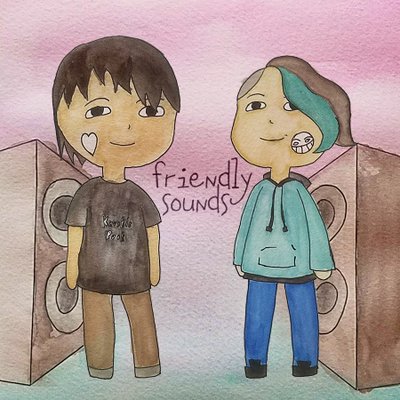 The friendly sounds podcast authors are a duo of young men (Jonny and Nathan) who love music. Their purpose is to discuss and share music that they love, without passing direct judgment on it. This differs from how music criticism/discussion often takes in that the host(s) of the podcast do not rate the music, or quantify it in any way, but simply just discuss it. This formula makes their love for music very clear, which is something I'd like to come across in my posts as well. However, the lay out of their episodes sometimes end up being more of a track by track discussion of an album, which is rather long winded and for my format of Instagram I will try to avoid doing the same with my posts.
Though the actual platform they use for sharing their opinions about music in a podcast, they share the links to their biweekly podcast via twitter. With each post on their twitter account they include a brief text blurb that allows them to tag the artists they are discussing and connects another mode to their campaign besides the aural mode that Arola et al. (2014) refer to as including music and spoken language (p. 8). I plan to incorporate the use of the aural mode in through music  clips similar to those included in the podcast. 
"If nothing else: listen to music, share music, love music, and for those artists who have passed, remember them through their music"

Nathan, Friendly Sounds Podcast Episode 9 (1:00:00)
The hosts are also very clearly friends with one another, which adds to their discussions and helps to promote their appeal to pathos. Although I will not have a co host, I'd like to make myself personable and allow for open discussion with my followers. Another thing I like about the podcast is a segment they do occasionally which they call "Nate's jam corner". In this segment they break from their focus for the episode to discuss and recommend what they've personally been listening to at the time of recording. This segment partially inspired my choice for "song of the week" posts. I also like their tendency to share new and different music with one another, which allows for them to discuss things that are new to them rather than music they both already know and like. This wide range of music genres inspired me to go outside of my usual comfort zone when I was selecting music to review for my posts.

Works Cited:
Arola, K., Sheppard, J. & Ball, C. (2014). "Chapter 1: What are Multimodal Projects?" In Writer/Designer: A Guide to Making Multinmodal Projects. Boston, MA: Bedford/St. Martin's Press, 1-19.
Jenkins, H., Ford, S., & Green, J., (2013). "Designing for Spreadable Media." In Spreadable media: Creating value and meaning in a networked culture. New York: New York University Press. 195-229.